Keep

Christ in Christmas
In a society where Christmas has become for many - especially children - a secular holiday. To combat this, the Knights of Columbus has introduced the Keep Christ in Christmas poster contest. This program - similar to the Substance Abuse Awareness Poster Contest - will allow young people to engage their creative talents and imaginations while understanding the true, spiritual meaning of Christmas. Entries in the Knights of Columbus "Keep Christ in Christmas" Poster contest must include a slogan reflecting the topic and an original visual image. Eligibility The Knights of Columbus "Keep Christ in Christmas" Poster Contest is open to all young people between the ages of 5 and 14. Age Groups Contest entrants compete in one of three age groups—ages 5 through 7, ages 8 through 10, and 11 through 14. Some schools may have different age brackets for their elementary and middle schools. In these cases it may be appropriate to group...
Read more
KofC

California State Council
KNIGHTS OF COLUMBUS CALIFORNIA STATE COUNCIL "Keep Christ in Christmas" Worthy Grand Knight Would your Council like to realize a profit of $100, $200 or more each week during the holiday season? By using one or two members at each door of your church before and after Mass for twenty to thirty minutes it can be done! That's really all it takes. The cards "sell themselves". Profits in excess of $ 100 each week are not unusual. If other councils can do it, why not you? Place your order for your sample case and begin to enjoy the rewards not only financially, but of also evangelizing your faith during the Christmas season.
Read more
The

McGivney Prayer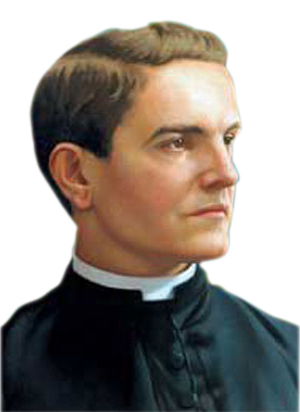 Prayer for the Canonization of Fr. Michael J. Mcgivney
God, our Father, protector of the poor and defender of the widow and orphan, you called your priest, Father Michael J. McGivney, to be an apostle of Christian family life and to lead the young to the generous service of their neighbor. Through the example of his life and virtue may we follow your Son, Jesus Christ, more closely, fulfilling his commandment of charity and building up his Body which is the Church. Let the inspiration of your servant prompt us to greater confidence in your love so that we may continue his work of caring for the needy and the outcast. We humbly ask that you glorify your venerable servant Father Michael J. McGivney on earth according to the design of your holy will. Through his intercession, grant the favor I now present (here make your request). Through Christ our Lord. Amen.
Greetings

from Archbishop Gomez
Letter to the Knights of thanks, appreciation, support and request for growth of Councils
Read more
Soccer

Challenge
SOCCER CHALLENGEThe Knights of Columbus Soccer Challenge is a competition designed for players aged 9 through 14, boys and girls to demonstrate the most basic of soccer skills -- the penalty kick. The recommend time frame for the Knights of Columbus Soccer Challenge is:Council Assigns Activity Chair and Order Kit -- NOWCouncil Chair Obtains Permission from School Principal -- AugustCouncil Championship -- Early SeptemberDistrict Championship -- Early OctoberChapter Championship -- October 17, Registration at 9am, Contest at 10am at Rancho San Antonio, Chatsworth, CA State/Regional Championship -- November 8
Read more